Plastic Overmolding
Low Pressure Injection Molding
During the need to protect certain wires and PCBA's from dust, water, heat, vibration, and against pulling, Advanced ID Asia arrived at low-pressure molding. The process is smooth enough to avoid damage of electronic components, and it is thin enough to find its way through narrow gaps. Once cooled off it is very strong, flexible, and has a heat resistance of up to 130 °C. There is no need for silicone or heat shrink tubes and the low-pressure enclosure is also able to show part numbers, logos, or other important details.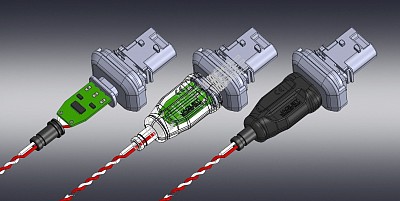 Low Pressure molding machines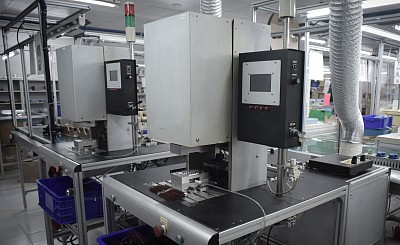 The twin low pressure molding machines
We have developed and built our own low-pressure machines in-house and customers such as Henkel use our machines. Advanced ID Asia produces molds in our own workshop which makes it possible to have a sample mold in under a week, a mass mold in less as two weeks, and all at very competitive pricing. 
High pressure injection (HPI) molding

Advanced ID Asia consumes a high number of plastic parts mainly PPS and ABS materials. We have a growing need for receiving parts rapidly and our demand is strong enough to fully utilize 4 injection molding machines. Due to this, we went into a partnership with TKC Thailand and completed another building on our property in 2013. We are able to supervise our molds and customer property molds and are in full control of our demand needs. We follow DFM's closely when ordering and producing a new mold. With more than 40 molds at our facility, we're very knowledgeable in terms of design feasibility, lead times, materials, and pricing. Our engineering team is ready to support you through your project.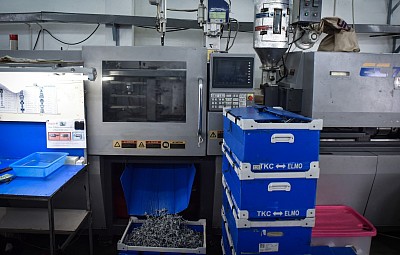 Prototype plastic injection tool
Prototype molds as low as USD $500 and production molds as low as USD $2000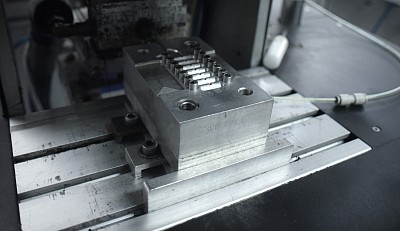 Advanced Potting and conformal coating materials
Potting stations
Usually, as a 2 component mixture, there are resins available for any requirement. We have many years of experience and a wide selection of materials available. Potting is usually used to:
Protect your design and intellectual property
Resist shock and vibration
Exclude moisture and corrosive agents
Conformal coating
Is a thin polymeric film which adapts to the contours of a printed circuit board to protect the board's components and protect the electronics against dust and moister. Advanced ID Asia uses highly advanced conformal coating materials.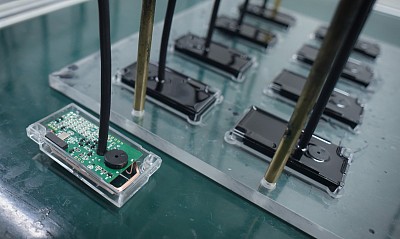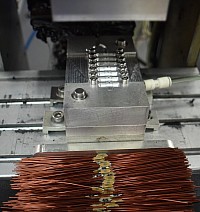 Mold design

If you would like to request a quotation, please provide:
Name of issuer, address, location, contact details
Contact person for queries both technical and commercial
Delivery address and detailed instructions
Drawing or sketch of the proposed design
How many cavities (depends on the qty. required)
Annual qty. for the part
Product material e.g.  ABS, PC, PP, PA, PMMA, POM, PE
Surface Demand (mold finishing, gate demand)
Control size, assembly demand
Insert 

molding or over molding
What you get

Support from experts in their field
Competitive Pricing
Realistic deadlines
Details on third-party involvement
Review of current BOM (e.g. EOL parts)
Suggestions to use alternative parts (if applicable)
3D printed samples
All under one-roof solutions
Sample Approval and Design Proof
Our engineering team will assist through the whole process.
Production feasibility can be evaluated through 3D drawings and/or 3D prints and assembly trials
Costly molds and long lead times can be avoided through state of the art technologies